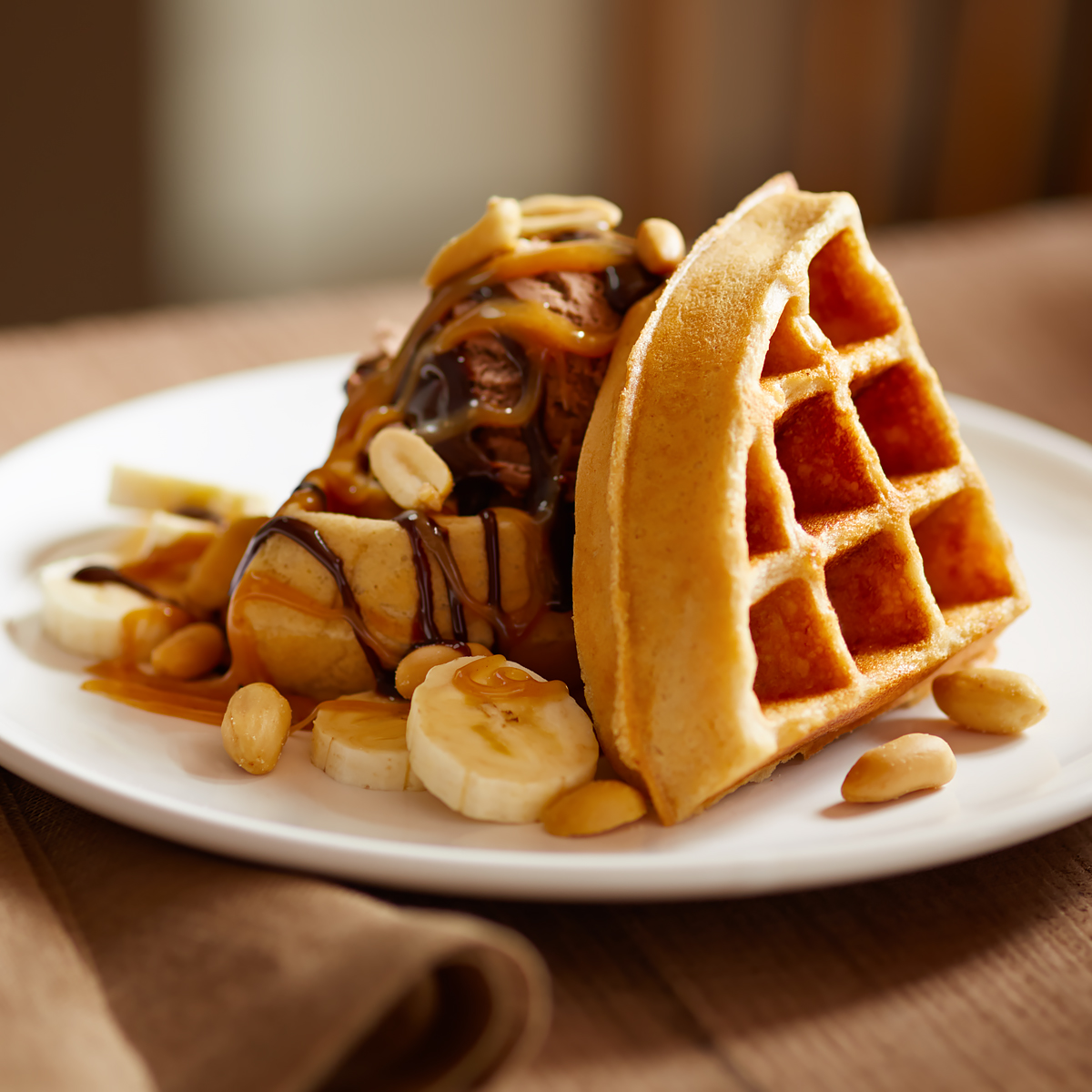 Peanut Butter-Banana Waffle Sundaes
Prep Time:

10 min.

Cook Time:

15 min

Total Time:

25 min

Yield:

8 servings
Ingredients
1 cup Creamy Peanut Butter, divided
1/2 cup Hungry Jack® Original Syrup
1 1/2 cups Hungry Jack® Complete Buttermilk Pancake & Waffle Mix (Just Add Water)
3 tablespoons sugar
1 cup water
No-Stick Cooking Spray
1 (11.75 oz.) jar Hot Fudge Topping
Vanilla or chocolate ice cream
3 medium ripe bananas, sliced
1/2 cup salted cocktail peanuts
Preparation Instructions
COMBINE

1/2 cup peanut butter and syrup in small microwave-safe bowl. Whisk until smooth.

COMBINE

pancake mix, sugar and remaining 1/2 cup peanut butter in medium bowl. Whisk in water gradually, just until peanut butter is blended into batter. Let stand 3 minutes.

COAT

7-inch round waffle iron with no-stick cooking spray and heat on medium-low setting. Bake batter in hot waffle iron according to manufacturer's instructions or until steaming stops and waffle is golden brown, about 1 1/2 minutes. Repeat to bake remaining waffle batter.

MICROWAVE

syrup mixture on HIGH 30 seconds or until warm. Heat fudge topping according to label instructions. Cut each waffle into 4 wedges. Place 1 wedge on each serving plate. Top with ice cream. Top with another wedge of waffle, pressing down slightly to spread ice cream. Top with banana, fudge topping and peanut butter sauce. Sprinkle with peanuts.