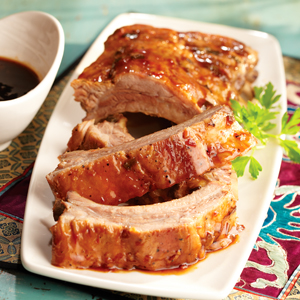 25

Prep Time

150

Cook Time

8

servings
Korean Style Baby Back Ribs
---
Ingredients
4 teaspoons cornstarch
1/2 cup water
1/4 cup sesame oil
6 green onions, chopped
4 teaspoons minced garlic
1 tablespoon minced fresh ginger
1/4 cup chili sauce
1 1/2 cups firmly packed brown sugar
1/4 cup Hungry Jack® Original Syrup
1/2 cup sodium-reduced soy sauce
2 tablespoons rice vinegar
2 racks baby back ribs, (about 3 pounds each)
Salt and pepper
Preparation Instructions
HEAT

oven to 325°F. Line two 17 x 11-inch baking pans with enough 18-inch wide heavy-duty foil to fold over ribs, approximately twice the size of the pan. Dissolve cornstarch in water.

HEAT

sesame oil in 3-quart saucepan over medium-high heat. Add green onion, garlic and ginger. Cook and stir 1 minute until light golden brown. Whisk in chili sauce, brown sugar, syrup, soy sauce, vinegar and cornstarch mixture. Bring to a boil, whisking constantly. Cook 4 to 5 minutes or until slightly thickened.

PLACE

one rack of ribs, meat side up, on each prepared pan. Season with salt and pepper. Baste each with 1/4 cup sauce. Turn racks over. Repeat seasoning and basting. Fold foil tightly around racks, meat side down, to make a sealed packet.

ROAST

2 hours or until ribs are tender and internal temperature reaches 160°F. Reheat sauce. Brush ribs with sauce. Serve remaining sauce with ribs.
Nutritional Information Per Serving

Serving Size (1/8 of recipe), Calories 900 (Calories from Fat 490), Total Fat 55g (Saturated Fat 19g, Trans Fat g), Cholesterol 190mg, Sodium 710mg, Total Carbohydrate 52g (Dietary Fiber g, Sugars 45g), Protein 47g; Percent Daily Value*: Vitamin A 4%, Vitamin C 8%, Calcium 10%, Iron 20%.

*Percent Daily Values are based on a 2,000 calorie diet.