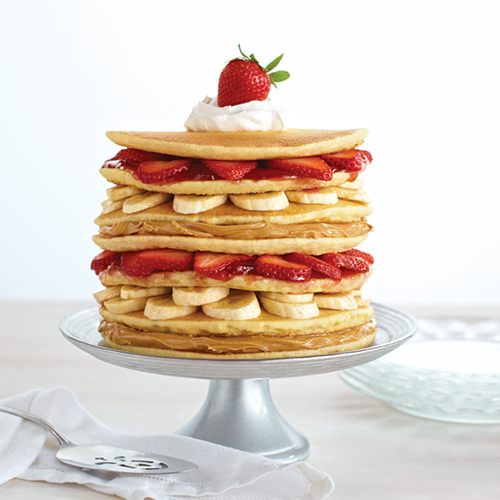 15

Prep Time

30

Cook Time

8

servings
Strawberry Banana Pan "Cake"
---
Ingredients
2 cups Hungry Jack® Complete Buttermilk Pancake & Waffle Mix (Just Add Water)
1 1/2 cups water
No-Stick Cooking Spray
2/3 cup Creamy Peanut Butter, divided
2 ripe bananas, sliced
1/2 cup Strawberry Preserves, divided
2 cups sliced fresh strawberries, divided
Whipped topping
Hungry Jack® Original Syrup
Preparation Instructions
STIR

pancake mix and water in large bowl until smooth. Let stand 3 minutes. Coat griddle or large skillet with no-stick cooking spray. Heat over medium-high heat (375°). Make 7 large pancakes, in batches, by pouring a scant 1/2 cup batter for each pancake onto hot griddle to form 7-inch circle. Cook until bubbles appear and edges are dry, about 1 to 1 1/2 minutes. Turn and cook an additional 1 minute or until golden brown.

HEAT

oven to 375°F. Place 1 pancake on oven-safe serving plate; spread with 1/3 cup peanut butter. Top with another pancake. Completely cover surface with banana slices. Top with third pancake; spread with 1/4 cup strawberry preserves. Completely cover surface with 1 cup sliced strawberries. Repeat all layers. Top with remaining pancake. Cover with foil.

BAKE

5 to 10 minutes or until heated through. Cut into wedges. Garnish with whipped topping, if desired. Serve with syrup.
Nutritional Information Per Serving

Serving Size (1/8 of recipe), Calories 460 (Calories from Fat 120), Total Fat 13g (Saturated Fat 3g, Trans Fat g), Cholesterol mg, Sodium 610mg, Total Carbohydrate 79g (Dietary Fiber 4g, Sugars 41g), Protein 9g; Percent Daily Value*: Vitamin A %, Vitamin C 45%, Calcium 10%, Iron 10%.

*Percent Daily Values are based on a 2,000 calorie diet.